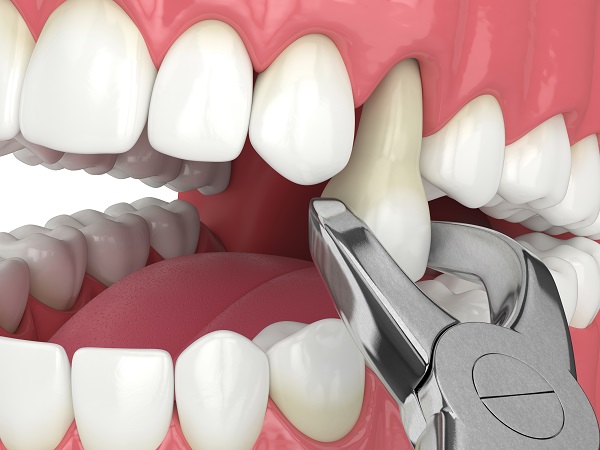 Tooth extraction is a relatively common procedure as teeth become decayed, which results in a need for removal. Many people who are living with problematic teeth automatically assume that these teeth need to be extracted from the mouth, however, sometimes they can be salvaged by a general dentist. It is good to know when a tooth extraction is necessary as it can be helpful for individuals who are not sure what to make of their teeth.
Reasons for extracting a tooth
It is important for patients who may be in need of tooth extraction services to understand that there are two different types of extractions – simple and surgical. Below is a list of three of the most common reasons why a general dentist may recommend a tooth extraction.
When severe tooth decay is present
When there is severe tooth decay present in a tooth, it means that the pulp has been affected. Once the pulp of a tooth is infected, the next step is often performing root canal therapy. However, sometimes a tooth is in such decay that it is no longer savable, meaning that the root canal process will not work. While teeth that are in mild to moderate decay are more likely to be saved, it is possible that a tooth extraction is still necessary for any tooth experiencing a great amount of decay.
To prevent an overcrowded mouth
Some dental patients simply do not have enough room in their mouths in order to accommodate all of their teeth. This can include their permanent set of teeth, as well as their wisdom teeth. When a general dentist determines that a patient has too many teeth, they will often choose to extract one or more of the teeth in order to make room for the rest. This is necessary in order to avoid overcrowding, as an overcrowded mouth often results in crooked teeth, which can lead to decay.
To remove a badly broken tooth
A badly broken tooth can result in a need for a tooth extraction. Two of the more common ways that teeth are broken is by eating something hard or experiencing a type of facial trauma. The severity of the break will determine whether or not the tooth needs to be extracted using a simple process or a surgical process. The simple extraction process means that the tooth can be extracted without having to make any incisions in the gum line, as is with the case of a surgical extraction.
In need of tooth extraction services?
Now that the above information on tooth extraction services has been read, those who think they may need to have one or more of their teeth extracted know what to expect. Since missing teeth need to replaced, it is essential to choose a general dentist who has plenty of experience extracting teeth, as well as replacing missing teeth. Those who are not sure if they need to undergo an extraction should be evaluated by a dentist to know for sure.
Request an appointment here: https://www.1dentalwellness.com or call Dental Wellness at (605) 274-6191 for an appointment in our Sioux Falls office.
Check out what others are saying about our dental services on Yelp: Tooth Extraction in Sioux Falls, SD.
---
Related Posts
June 1, 2022
Tooth extraction is a procedure done to remove a damaged or potentially problematic tooth. Like every dental procedure, the wound created by the extraction process heals over time with proper care. The …